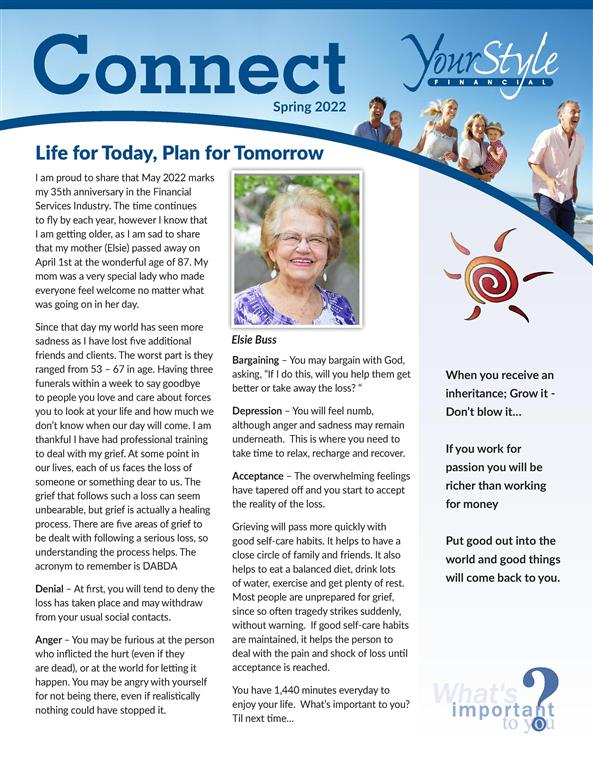 Spring 2022
Planning Your Lifestyle with YourStyle Financial
Doug Buss interviewed with Richard Rosin about planning your lifestyle with YourStyle Financial. Listen to the explanation of the four phases of planning.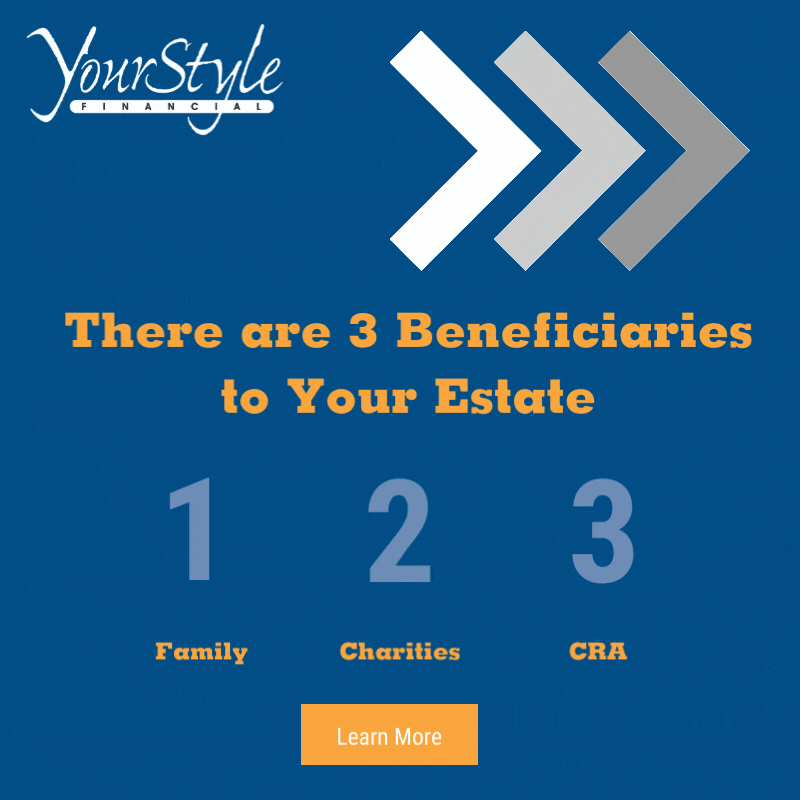 There are 3 Beneficiaries to Your Estate
If you have a will, you have a choice on what you would like to happen with your money once you are gone. We often think of the beneficiaries of our estate as loved ones. But a beneficiary can be any person or entity you choose to leave money or assets to. The top three are:
Family
Charities
CRA
Who do you care most about??
(more…)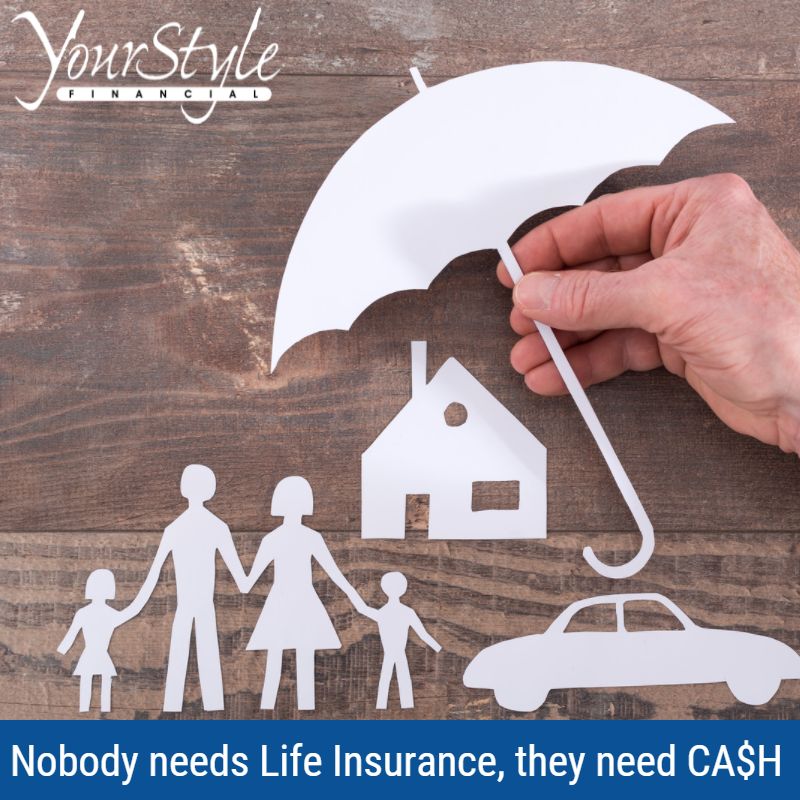 Nobody needs Life Insurance, they need CA$H
For many, the last two years have made a lot of people more attentive to two things; money and mortality – both of which are the pinnacle of adulting. They're also both the two things no one likes to think about. For most, there's not enough of either money or time. But when the time comes, will there be enough money?
If you're evaluating your accounts and expenditures and deciding where you can cut costs, are you wondering if your life insurance policy is worth the monthly premiums? Is it a necessary expense? Is it something you need and why? Let's explore those questions.
(more…)
Manulife's Are you ready? – The Call


]]>
Manulife's Are you ready? – The Meeting
Manulife's Are you ready? – The Ride
<![CDATA[Manulife's new campaign, "Are You Ready" reminds us that whatever the situation may be in your life, you can be financially prepared. Here is an example in "The Ride." ]]>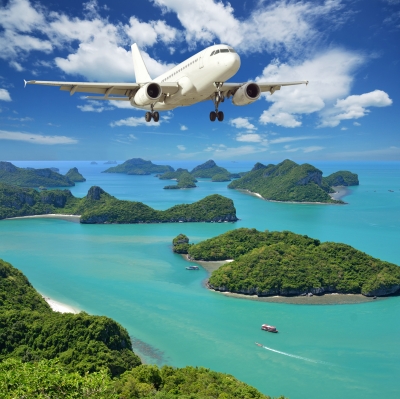 Get away – but get covered
recent post to this blog, we discussed the health benefits of a vacation. Since we call Winnipeg home, we're very aware of the temptation to fly south in search of warmer weather and some quality time poolside or on the beach. Your vacation is an investment, and it will pay real dividends in terms of enhancing the quality of your life.  By all means, go – but make sure you're covered first. Your Manitoba Health Insurance covers you in Canada, but if you're travelling to the US or another foreign destination, you'll probably want to supplement your coverage with some travel health insurance.  Manitoba Health will only cover the costs of emergency health care to about the same level as they do in Canada.  In other countries, services can cost significantly more than they do here at home.  As a result, you could find yourself responsible for a large medical bill. YourStyle Financial Inc. can help you with your insurance needs – temporary travel coverage by itself, or as part of an Extended Health Plan.  When you're out of the country, we can help you make sure that your emergency needs, like physician's fees, diagnostic services, ambulance and paramedic costs, and hospital accommodations are taken care of. No matter what your insurance needs are, YourStyle Financial Inc. can help you select coverage that meets your goals, today and tomorrow.  We provide consultative services that take your individual situation and needs into account, and advise you on the solutions available to you.  We're one of Winnipeg's premiere financial services firms, because we don't just sell products, we build relationships with our clients.  Your healthy financial future is our primary concern. Travel insurance provides peace of mind, so that your vacation can bring peace to your body.   Request a quote online today.
Vacations – Investing in Yourself
There are many good reasons to take a vacation – taking some time away from the stresses of work and daily life to focus on spending time engaging in stimulating (or relaxing) activities with family members and friends in a new setting can recharge your batteries. It will give you added perspective on your life and work, and you'll return to your regular routine invigorated and more productive. And your health can be greatly improved. Prolonged periods of work without a vacation have been shown to have numerous medical consequences – people who are "all work and no play" become irritable and inattentive, and are more likely to have accidents on the job. They are at higher risk of cardiovascular problems, depression, anxiety, and other illnesses, both physical and mental. Your financial plan should be flexible enough that you don't need to save every last dollar you make for retirement. Life is about balance, just like vacations are about balance. By helping you make wise budgetary decisions, YourStyle Financial can help you achieve a balance by making judicious investments – in both your financial future and your happiness today. We will do what many financial planner fail to do – we will find out, in detail, about your wants and needs, before helping you develop a financial plan that fits your personality, individual needs and wants (including vacations), and investment goals. Then we'll help you implement it. When you deal with YourStyle, you aren't getting a quick one-off session with an investment product salesperson – you're developing a long-term relationship with a financial planner who has your best interest at heart.