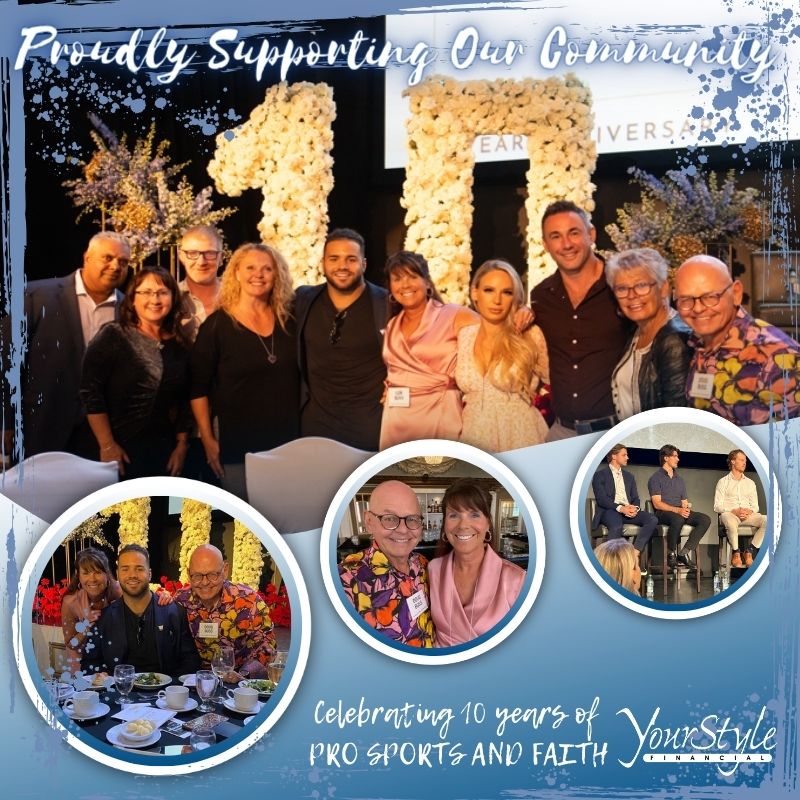 A Decade of Dedication: YourStyle Financial Celebrates 10 Years of Sponsorship with Pro Sports and Faith
A decade of unwavering commitment, a celebration of faith, and the exhilaration of pro sports—YourStyle Financial is thrilled to commemorate 10 years of partnership with Pro Sports and Faith Night. As a beacon of support for this extraordinary event, YourStyle Financial has played an integral role in fostering the intersection of athleticism and spirituality. Join us in reflecting on this remarkable journey and the values that continue to inspire us.
A Decade of Sponsorship:
Ten years ago, YourStyle Financial took a bold step in aligning with Pro Sports and Faith Night, recognizing the profound impact of blending sportsmanship with the guiding principles of faith. Since then, our partnership has flourished, contributing to the growth and success of an event that resonates with individuals seeking inspiration on and off the field.
The Essence of Pro Sports and Faith Night:
Pro Sports and Faith Night is more than a convergence of athletic prowess and spiritual devotion; it's a testament to the power of unity, resilience, and community. Year after year, this event has brought people together, creating memorable experiences that transcend the boundaries of sports arenas and churches.
Details of the Celebration:
This year's Pro Sports and Faith Night promised to be a milestone event, with an array of activities and festivities for attendees of all ages. From engaging talks by inspirational speakers to thrilling sports competitions, the night was set to be a culmination of a decade's worth of dedication.
A Quote from Our Sponsorship:
"As we mark a decade of sponsorship with Pro Sports and Faith Night, we reflect on the values that have guided our journey. It's more than an event; it's a shared commitment to excellence, community, and the enduring power of faith. We are proud to stand alongside Pro Sports and Faith Night in fostering an environment where athletes and believers alike can find inspiration, strength, and camaraderie."
– Doug and Loreen Buss