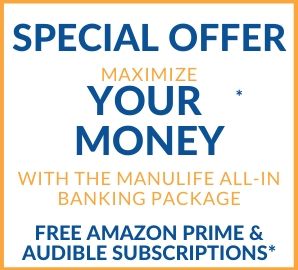 Win with the Manulife All-In Banking Package
Daily banking just got a whole lot better.
The new Manulife All-In Banking Package is designed to maximize your money. It's a new, innovative mobile-based banking bundle that's unlike any other banking experience in Canada.
Sign-up with one easy online application and five minutes of your time – and you'll get an everyday banking and high-interest savings account along with a ManulifeMONEY+™ Visa Platinum card1 and travel disruption insurance.2
Click the link below:
https://client.manulifebank.com/edo/#/SocialBanking/PackageCombo/BANK_ID=MNL&LANG_ID=001&REF_ID=174618
What makes this product special?
As an All-In Banking customer, you'll be able to:
Get unlimited daily banking – including debit transactions, e-Transfers, and withdrawals.

Earn high interest on every dollar you save.
Have your $10 monthly fee waived when you save $100 or more each month.3
Maximize the interest you earn with Savings Sweep – which automatically moves excess money from your everyday banking into your savings account each night.
Get insights on your spending habits and learn about personal finance from MAI, your new AI-powered financial assistant.
Plus… for a limited time, new customers will get a one-year Amazon Prime membership and up to five-months of Amazon Audible4 just by making ten or more purchases in each of the first full two months following their Manulife All-In Banking Package opening date.5
Contact me today to get started and you'll receive our special discounted banking fee of just $8 per month. And by saving $100 each month, you'll get free banking!
1 Subject to credit card approval.
2 Underwritten by The Manufacturers Life Insurance Company (Manulife) and First North American Insurance Company, a wholly owned subsidiary of Manulife. Manulife, P.O. Box 670, Stn Waterloo, Waterloo, Ontario, N2J 4B8.
3 At the end of every month, if the balance in your High Interest Savings Account is $100 higher than the balance on the last day of the previous month, we'll waive the monthly fee.
4 If you're not already an Amazon Prime member and you haven't used an Audible free trial before, you'll be eligible to receive 5 months of Audible as part of this offer. Amazon Prime now comes with a 3-month Audible free trial. If you've used an Audible free trial before, you'll be eligible to receive 2 months of Audible as part of this offer.
5 You must redeem your Amazon Prime Membership Code and agree to the Amazon Prime Terms and Conditions to qualify for Amazon Prime membership. The membership codes are good for one-time use only and must be redeemed within 2 years of receipt. Your Amazon Prime membership automatically renews for the membership fee in effect at the time of renewal plus applicable taxes. You may cancel at any time by visiting Your Account and adjusting your membership settings. Valid credit card required at time of registration if Amazon does not have one on file. Amazon Prime Membership Codes cannot be transferred or resold. For more information about Amazon Prime, visit amazon.ca/prime. Amazon Prime has a CAD $79/year value. Amazon.com is not a sponsor of this promotion. All Amazon ®, TM & © are IP of Amazon.com, Inc. or its affiliates.